Dental Implants – North Bethesda, MD
Completely Replace
Lost Teeth
Dental implants aren't your only option for replacing lost teeth, but we often consider them to be the optimal solution. In terms of permanence, durability, and appearance, they are simply unmatched by other types of restorations. They also have an extremely high success rate of 90 to 95 percent, meaning you'll be eating, speaking, and smiling with your new teeth for a long time to come. Our ultimate goal is to restore your oral health and your overall quality of life with new teeth that feel like the real thing. Call Aesthetic & Family Dentistry of North Bethesda to set up a consultation to discuss replacing missing teeth with dental implants in North Bethesda, MD.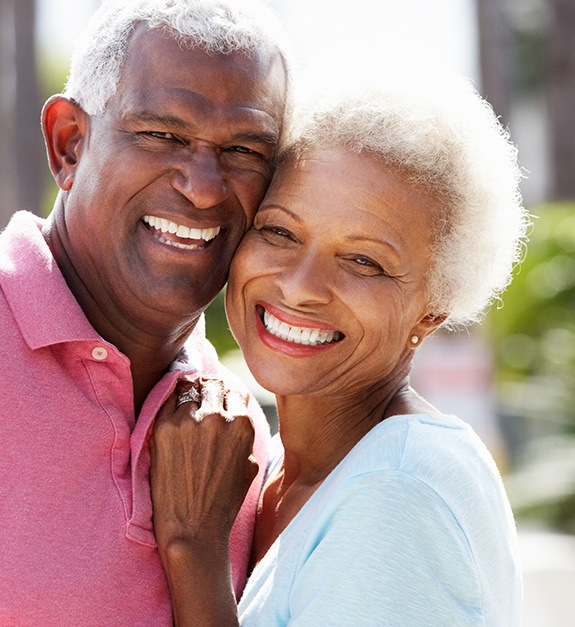 Why Choose Aesthetic & Family Dentistry of North Bethesda for Dental Implants?
Partnered with Experienced Implant Specialists
We Accept and Maximize
Dental Insurance
Caring and Experienced
Dental Team
What are Dental Implants?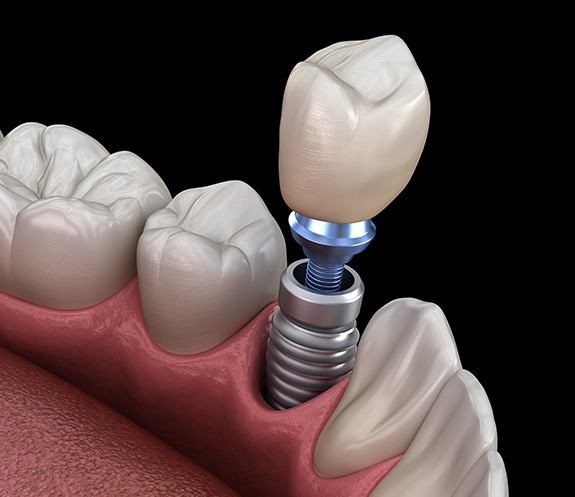 An implant by itself doesn't resemble the tooth, but that's because it's designed to perform a specific function without being seen. The implant post is made out of titanium and will be inserted into your jaw. Since it's made out of biocompatible materials, it will eventually fuse with the bone tissue. This is called osseointegration, and it's what allows implants to act as roots for crowns, dentures, and bridges to fully replace teeth.
The 4-Step Dental
Implant Process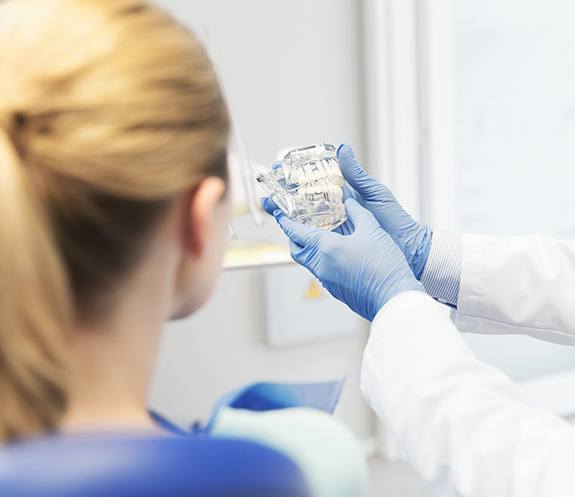 The implant process won't be exactly the same for everybody, but it will generally follow the four basic steps outlined below:
Consultation: During your first appointment, we'll take X-rays and evaluate your oral health before deciding whether to begin the implant process. You may need to schedule bone grafts or other procedures before you can be considered a good candidate for implants.
Surgery: We will refer you to an expert surgeon in the area who is experienced in placing dental implants.
Osseointegration & Abutment Placement: The process of osseointegration takes three to six months on average. Once the gums have healed, we can put a metal connector piece known as an abutment on your implant.
Final Restoration: Once the final restoration has been made, it will be attached to the implant via an abutment.
Benefits of
Dental Implants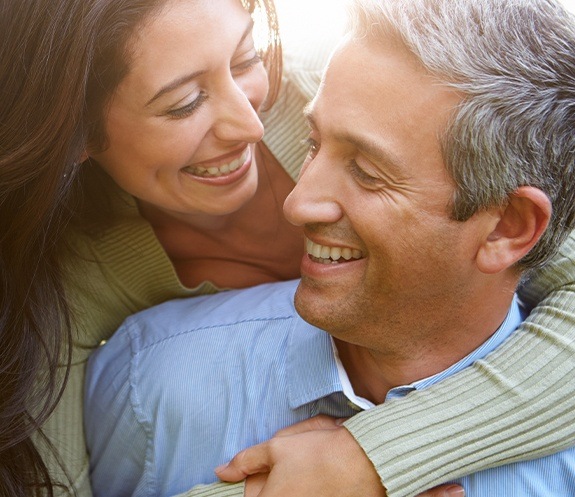 Dental implants are not like other tooth replacements. For one thing, they have a much longer lifespan; they can typically be expected to last over 35 years with proper maintenance (which is very simple, since implants can be brushed like natural teeth). Other benefits include:
Prevention of bone loss and preservation of the facial structure
The ability to chew virtually any kind of food
Teeth that look and feel natural
High rate of success even after 10 years
Who Can Dental
Implants Help?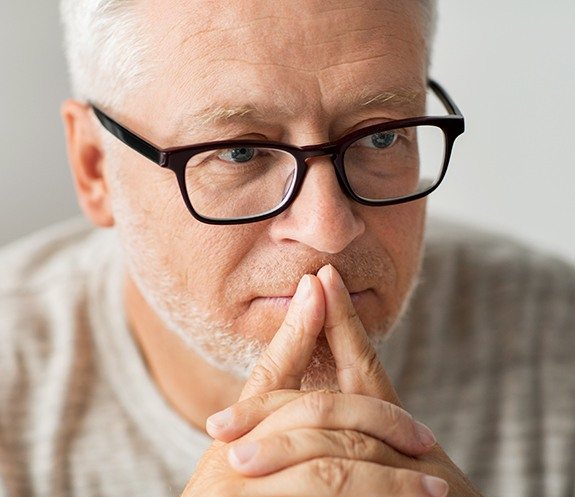 There's no limit to the number of teeth that can be replaced with implants, but whether you're a good candidate for the procedure is another story. Certain chronic illnesses might interfere with the body's ability to accept the implant posts, and oral conditions like gum disease or bone loss in the jaw can lead to implant failure. These issues can be addressed with certain preparatory treatments, and we can work with your primary care physician to determine what steps you might have to take before implant surgery. Then treatment can move forward based on how many teeth you've lost.
Missing Single Tooth
If just one tooth is missing, all you need is a single implant post that supports a crown. Single implants can be considered an alternative to traditional dental bridges. While both can be used to replace a tooth, an implant won't require any changes to the remaining teeth, so more of your natural smile stays intact.
Missing Multiple Teeth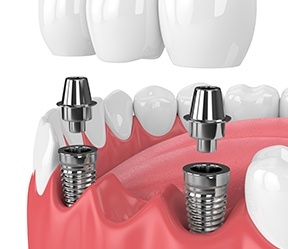 You can also replace multiple teeth in a row with a bridge that uses implants for support instead of your teeth. This way, you'll only need two implant posts to fill in a gap left by at least three teeth.
Missing All of Your Teeth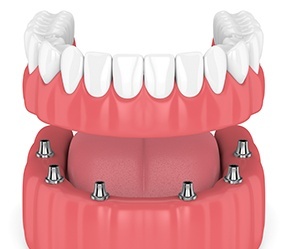 Implant dentures can be used to fully replace your upper or lower arch of teeth. Usually four to eight implant posts is enough to secure the prosthetic in place so that it doesn't slip at inconvenient moments, such as when you're trying to eat.
Understanding the Cost of Dental Implants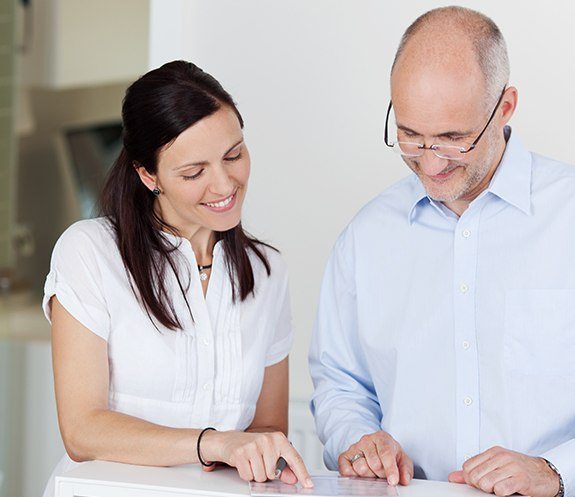 Your dental implant treatment plan will be tailored to suit your unique needs. Consequently, there's no set price tag on how much dental implants in North Bethesda will cost. While we're going over the details with you during your initial consultation, we will discuss how much you can expect to pay for the implant posts themselves, the restoration, and any preparatory procedures. We'll work with you to create an estimate that you can start planning with, and we can help you explore your options for dental insurance coverage and additional financing.
Preliminary Treatments & Dental Implant Surgery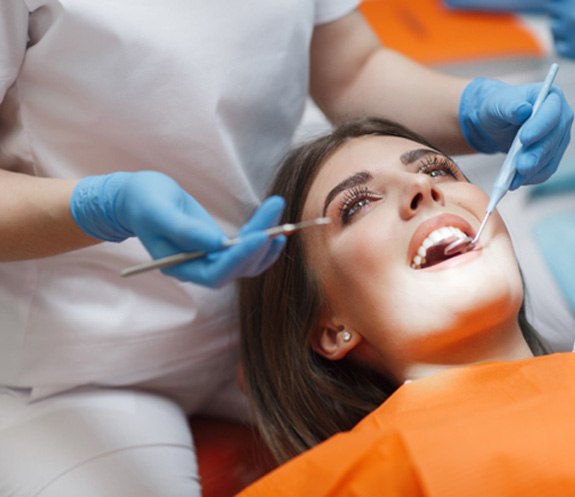 If you have existing oral health problems, you'll need to undergo certain preliminary treatments before getting dental implants in North Bethesda. Some common services include gum disease treatment, tooth extractions, and bone grafting. While they'll add to the overall cost of the process, they're necessary to ensure the long-term success of your newly rebuilt smile. Plus, most of these procedures are partially covered by dental insurance.
It's worth noting that dental implant surgery has a cost of its own, which is normally affected by the location of the surgical site and the type of sedation needed. Our practice will refer you to an experienced outside specialist for this step in the process. They'll discuss with you separately what you can expect to pay for the procedure.
The Parts of Your Dental Implant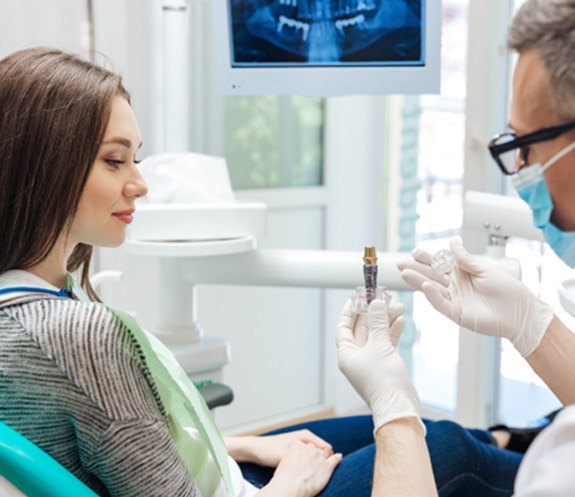 The overall cost of dental implants in North Bethesda is influenced by several factors. Some of those include:
Number of Dental Implants: It only takes one implant to replace a single tooth, two implants to replace a row of teeth, and four or more to replace an arch. However, it's more cost-effective to get an implant denture than it is to replace each tooth separately.
Type of Restoration: Crowns, bridges, and dentures each cost different amounts. As you can imagine, the smaller restorations are naturally less expensive.
Material: Dental implants can be made out of zirconia instead of titanium, which affects the total price.
Brand: Different manufacturers make dental implants differently based on the unique needs of each patient. Make sure you ask about where your implants are coming from as well as any brand-specific benefits.
How Dental Implants Can Save You Money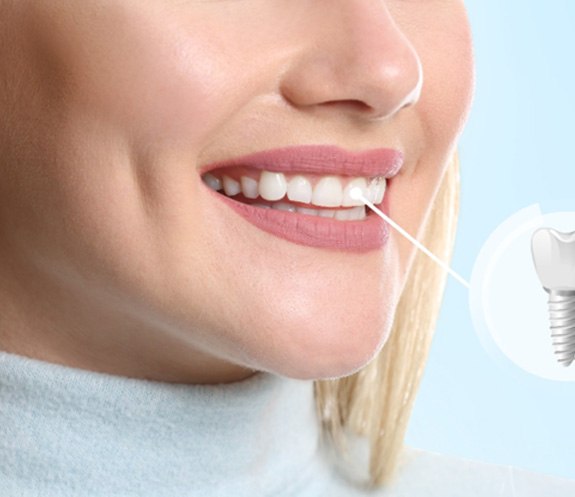 We understand that dental implants can feel like a significant financial commitment. If you're on a budget, you may be tempted to opt for traditional dentures or dental bridges to save money. However, dental implants are the more cost-effective choice in the long run. You don't have to worry about paying for replacements or adjustments every five to 10 years. Additionally, you don't have to buy special products to care for your artificial teeth. Caring for dental implants is as easy as caring for natural teeth!
Since dental implants are easier to maintain, you can prevent issues like gum disease, tooth decay, and jawbone deterioration. Many studies have revealed that good oral health will help lower the risk of systemic issues as well as the costs associated with addressing them. All in all, this modern tooth loss solution is an investment that's certainly worth every penny.
Does My Dental Insurance Cover Dental Implants?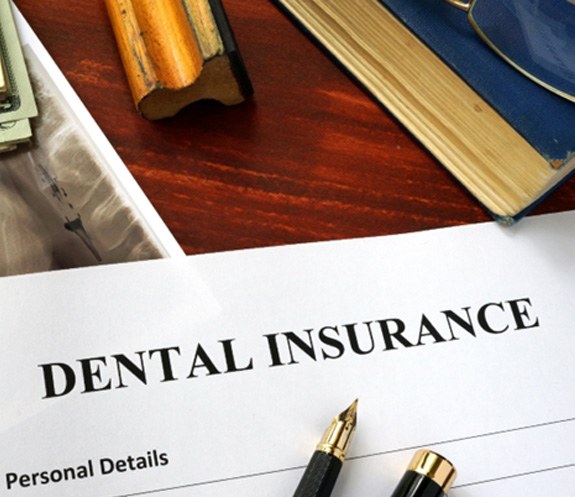 Most dental insurance plans don't typically pay for dental implants, but there are some exceptions. For instance, parts of the final restoration or certain preliminary treatments are usually covered. During your consultation, our team can review your benefits and figure out the best way for you to maximize them. We'll help you understand exactly how much of your treatment is covered!
Making Dental Implants Affordable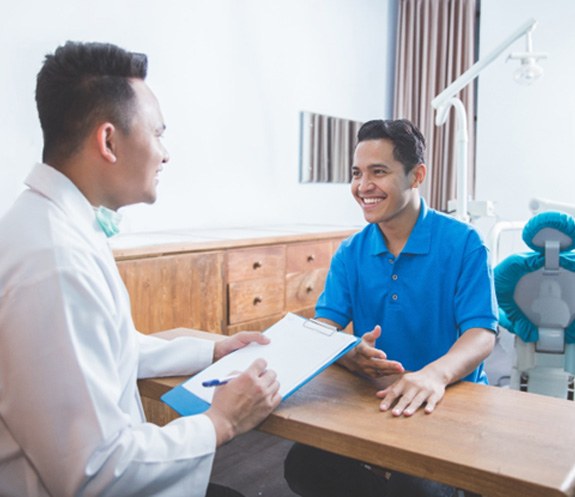 At Aesthetic & Family Dentistry, we offer additional financing options to help make your treatment as affordable as possible, such as:
CareCredit Financing: With this option, you can split up the total cost of your care into smaller monthly installments. Most payment options come with little to no interest attached as well!
In-House Dental Savings Plan: For one flat annual fee, you can get the preventive care you need and have access to sizeable discounts on other services. You can essentially enjoy the benefits of traditional insurance without the red tape!
Schedule Your Consultation Today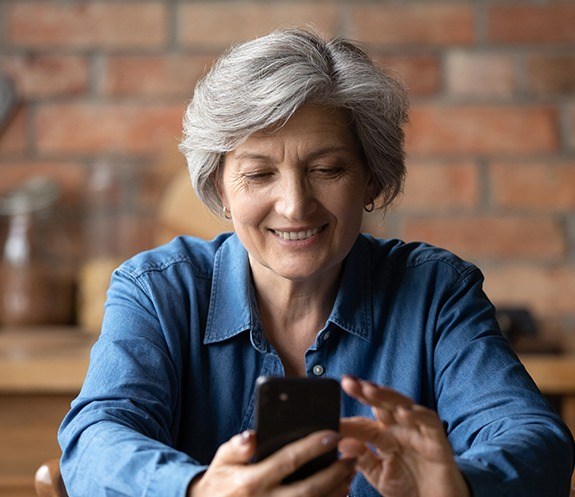 You shouldn't have to deal with tooth loss, but if you end up having to live with it, we invite you to get in touch with Aesthetic & Family Dentistry of North Bethesda today. You can set up a dental implant consultation, or you can simply ask questions about our various treatment options. We look forward to meeting you and discussing your treatment further. Our dental office is conveniently located to be easily accessible to patients who live in a variety of areas in Washington, DC.
Dental Implant Frequently Asked Questions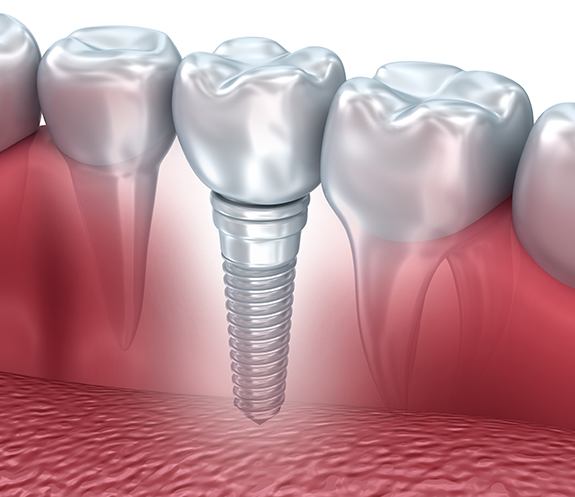 Dental implants are the most reliable, most durable option for many patients suffering from tooth loss. But how will you know if they're right for you? To get an answer to that question, you'll have to talk to a dental expert. We're more than happy to help you as much as possible throughout the dental implant process, and we invite you to contact our Washington, DC dental office at any time if you have any concerns you want to voice. It helps to have insight from a true expert before making any decisions about your oral health.
Is the dental implant process painful?
Dental implant process requires a minor surgery, but despite that it causes very little pain. This is thanks to the advancements that have been made in dental anesthesia. Oral surgeons are able to make the area where the implant will be placed entirely numb. You may feel some pressure, but the treatment won't actually hurt, so you can remain comfortable throughout the procedure.
After your implant has been initially placed, some mild to moderate discomfort will occur over the next week or so. Taking a pain reliever will help you manage your pain in the meantime. If it persists or grows worse over time, give our Washington, DC dental office a call, and we'll arrange an emergency visit to figure out what the problem is.
Will I have a customized plan?
Every dental implant treatment plan is fully customized based on a complete assessment of your jaw, your mouth, and the number of teeth that you've lost. Your needs will vary depending on whether your jaw is currently strong enough to support implant posts, whether you are currently suffering from gum disease (or generally practice good oral hygiene), and whether you have underlying health issues that need to be addressed. After your dental implant has been placed, we'll call you back to our dental office to plan out the rest of the process until your final restoration is in place.
Are dental implants only for older patients?
As long as you're an adult with a fully developed jawbone, you are a potential candidate for dental implants. It doesn't matter how old you are; the treatment is designed to help anyone with missing teeth have a fully functional smile again. Even one lost tooth can cause the surrounding teeth to shift and alter the shape of your bite, and that can lead to a number of other oral health issues. (For example, since your teeth will be harder to brush, you'll be more likely to experience gum disease.) Getting dental implants will protect your smile for the long term no matter how many years of life are ahead or behind you.
How much do dental implants cost?
This is a question that can only be answered during your routine consultation. Because the dental implant process is completely personalized, the cost isn't going to be the same for every person. Someone with a single missing tooth that only needs one implant post will receive a different estimate than a patient that needs four or more implants for full dentures. And if additional procedures are required to ensure your candidacy for implants, then that will have to be considered as well when thinking about the costs. Once we've determined your eligibility, we'll start working on your replacement plan and get an estimate for you as soon as possible.