Orthodontics – North Bethesda, MD
Discreet Solutions,
Beautiful Smiles
Maybe you regret never wearing braces as a teenager, but as an adult the prospect of wearing metal brackets and wires for months on end can be even less appealing. There are plenty of teenagers who wear braces in high school, but they aren't quite as common in the adult world. As much as you might want straighter teeth, the idea of having to wear braces to important business meetings or social events can be embarrassing. Of course, straightening teeth is about more than improving your appearance; it also helps prevent bacterial buildup in crowded areas and undue wear and tear of the teeth. But if the idea of wearing braces is just too much for you, maybe it's time to consider an alternative in the form of Invisalign. Keep reading to learn more about your options for orthodontics in our North Bethesda, MD dental office.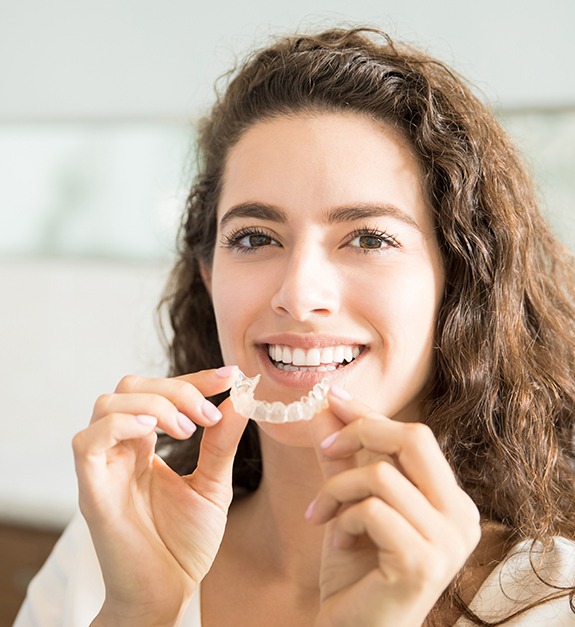 Why Choose Aesthetic & Family Dentistry of North Bethesda for Orthodontics?
Discreet Clear
Aligners
Treatments for
Teens and Adults
A Team of Caring
Dental Experts
Invisalign® Clear Braces
At Aesthetic & Family Dentistry of North Bethesda, we want everyone to be able to enjoy their best possible smile. Thanks to Invisalign, you no longer have to overcome your aversion to metal brackets and wires to correct crooked teeth. You can instead wear convenient see-through Invisalign aligners that will let you continue living your life as you normally would.
How Does Invisalign Work?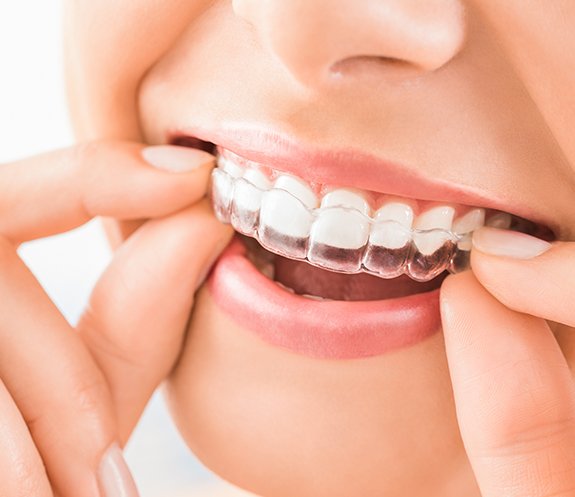 The Invisalign process involves a series of alignment trays that exert small amounts of pressure on the teeth to move them into place. First we need to scan your mouth with our 3D digital X-ray. Unlike a traditional 2D X-ray, these scans will give us a more complete picture of your bite, allowing us to create a digital impression of your teeth that can be used to create a number of clear aligners. Once you've received your aligners, it's all a matter of wearing them for about 20 to 22 hours every day and switching to the next one in the series when the time comes, which is typically every two weeks or so.
You'll need to come back to our dental office every six weeks or so to make sure that your teeth are moving in accordance with our expectations. If the proper movements aren't being made, you may need to return to an earlier aligner, or you might have to wear your current aligner for slightly longer. The upside of Invisalign is that it's removable, and while you do need to keep it in your mouth for most of the day, you can take it out for meals, allowing you to enjoy all of your favorite foods. You'll also be able to continue your normal dental hygiene routine; the only change will be that you'll need to brush your aligners along with your teeth.