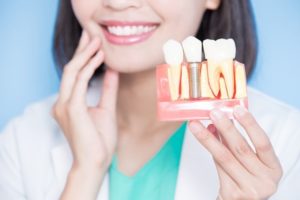 Dental implants have revolutionized modern dentistry and are now considered the gold standard for replacing missing teeth. They're able to fully restore lost teeth in terms of look and feel, and the American Dental Association estimates that over five million of them are placed every year! Despite this, there are still some odd rumors and myths floating around about dental implants that deter people from receiving them. Here's more from your dentist in North Bethesda about five myths concerning dental implants that simply aren't true.
Myth #1: Dental Implants Are Only for Old People
Whether it's due to poor oral hygiene, physical trauma, or some other cause, missing teeth will impact the look and functionality of your smile. And anyone can lose a tooth, no matter their age! This means that replacing lost teeth quickly is crucial; and fortunately, anyone with good oral health and a strong jawbone is eligible for dental implants, not just older people! Although teens must typically wait until they're 18 or so, there is no upper age limit for getting dental implants.
Myth #2: They're Extremely Noticeable
Dental implants are customized perfectly for your smile, and thanks to the efforts made by your dentist, they'll look lifelike and natural. They're only noticeable in the sense that people will notice—and greatly admire—your new smile! Other forms of tooth restoration, like bridges or dentures, can sometimes be easy to spot.
Myth #3: Getting Them Is Painful
Many patients become nervous at the prospect of undergoing any sort of surgical procedure, but when it comes to dental implant placement, there's nothing to worry about. You will be completely numbed and/or sedated throughout the process, and other than a little pressure during the actual procedure, you won't experience any pain at all!
Myth #4: They're Really Expensive
Dental implants do run a little higher in cost compared to other tooth replacement options, but depending on your dental benefits, they might not be as expensive as you think. They're also a long-term investment and become very cost effective as time goes on, and they can easily last for 20 or 30 years if cared for properly. In this sense, they also save you a lot of money down the road by preventing certain problems from developing in the first place!
Myth #5: They Limit Your Diet
This is a primary concern for many patients after undergoing any sort of dental work—after all, who doesn't love to eat? Though you'll have to be pretty careful about what you eat for the first few days after getting implants, this is simply to allow the surgical sites to heal. Once that's done, all of your favorites are back on the menu! That said, it's never a bad idea to stick to a healthy, vitamin-rich diet to promote good oral health and preserve your implants.
Don't let any of these myths about dental implants deter you from receiving them; they're undoubtedly an incredible tooth replacement option that yields countless benefits.
About the Author
The team at Aesthetic & Family Dentistry of North Bethesda is proud to serve patients and families in the area under the leadership of Dr. Yelena Obholz. Dr. Obholz received her dental doctorate from the New York University College of Dentistry and is an active member of several professional organizations including the American Dental Association and the District of Columbia Dental Society. If you have any questions about dental implants or would like to arrange a visit, you can contact Dr. Obholz through her practice's website or over the phone for assistance: (202) 364-8989.